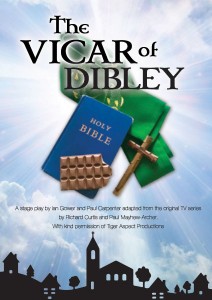 Playgoers, Shows
By Ian Gower and Paul Carpenter
Adapted from the original TV series by Richard Curtis and Paul Mayhew-Archer, with kind permission of Tiger Aspect Productions  
This hilarious play (adapted from the popular 1990s TV comedy) is set in the sleepy village of Dibley, where the elderly local vicar has just died and the parish council members, led by their pompous, opinionated chairman David Horton, are waiting to greet his replacement. They are definitely not expecting anyone like Geraldine Granger – 'a babe with a bob cut and a magnificent bosom'! Nevertheless, kind-hearted, fun-loving Geraldine (aided by pea-brained verger Alice Tinker) sets out to win over the oddball inhabitants of Dibley while staying true to herself.
Although female vicars are no longer considered particularly unusual, the play's humour has remained fresh, partly thanks to the wonderfully eccentric characters who make up Geraldine's congregation. 
Don't miss this show, which will definitely put you in a festive mood in the run-up to Christmas!  
A Workington Playgoers Production - Part of the Season Ticket
Show DetailsPerformance:
7:30pm
Running Time: 
2.5hrs with intermission
Dates: 
Tuesday 3rd to Saturday 7th December 2019
Tickets:
Adults £11.50
Concessions £10.50