Culture Shock w/ Juana Molina (Argertina) // Russel W & The 5 Islands // Alyx Dennison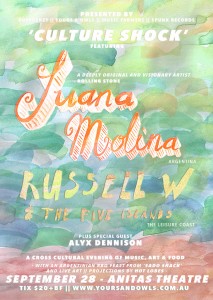 Culture shock is a cross cultural evening, where we open your senses through music art and food to a whole new community of sights, sounds, tastes and smells.

Sunday 28th of Sept we welcome Juana Molina of Argentina to Anita's Theatre in Thirroul.

She will be joined by our very own Rusell W (of Shining Bird) & The Five Islands, who will be performing under that moniker and playing all new material for the very first time.

If you get down early, "Sado Shack" are going to be bringing the goods and we will all share in an Argentinian BBQ (Meat lovers & Vegatarian options available).

A little about JUANA MOLINA
- A "deeply original and visionary artist" (Rolling Stone)

The bewitching Molina is known for creating opulent soundscapes with songs that combine folk, electronica and a little bit of South American jazz with a transcendent voice.

The Buenos Aires-born singer-songwriter has a huge international following, having released six acclaimed albums, provided guest vocals for The Chemical Brothers' 2007 track Seal and toured the world multiple times.

She will be performing tracks from her new album Wed 21 - a haunting record composed, performed, recorded and produced entirely by Molina in her Buenos Aires studio. The playful seven-track disc weaves inventive electronics with hypnotic bass, drums and electric guitars, building on Molina's previous work to incorporate a greater number of instruments and a much broader sonic spectrum.

Molina has led a remarkable life. After a military coup in 1976 established a brutal dictatorship in Argentina, she fled as a teenager with her family to Paris. Here, she started listening to music from all over the world and honed the guitar style that her father, a tango musician, had taught her to play from the age of six.

Her love of music took a brief hiatus when she returned to Argentina and built a career as one of Latin America's most popular comic actresses thanks to her hit TV sketch show Juana y Sus Hermanas. However, she eventually gave up her comedy career to focus on her true passion once again.

Audiences will be given a rare treat, with the lush musical tapestries created by this extraordinary artist.
Anitas Theatre
Sept 28, 2014 - 6:00pm, 18+
Tickets $20 +bf // $25 door
Book
Venue Anitas Theatre
264 - 270 Lawrence Hargrave Dve
Thirroul
NSW 2515