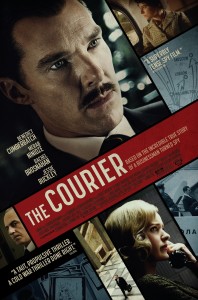 Friday 7th January 2022 at 7.45pm 
THE COURIER is a true-life spy thriller, the story of an unassuming British businessman Greville Wynne (Benedict Cumberbatch) recruited into one of the greatest international conflicts in history. At the behest of the UK's MI-6 and a CIA operative (Rachel Brosnahan), he forms a covert, dangerous partnership with ​Soviet officer Oleg Penkovsky (Merab Ninidze) in an effort to provide crucial intelligence needed to prevent a nuclear confrontation and defuse the Cuban Missile Crisis.
Director - Dominic Cooke
Writer - Tom O'Connor
Stars - Benedict Cumberbatch, Merab Ninidze, Rachel Brosnahan
1 hr 52 mins
Drama/History/Thriller
Tickets £4.50BOOK TICKETS ONLINE, CLICK ON THE LINK - 6.5% booking fee applicable
Box Office: 01795 471140



*Important information - The lift in Central House is currently out of order – should you require help getting upstairs please contact the theatre in advance. We apologise for this issue which is beyond our control.