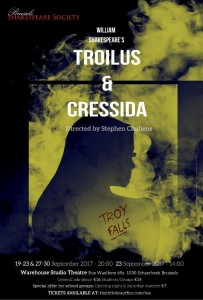 The Brussels Shakespeare Society presents William Shakespeare's Troilus and Cressida
DATES
:
19
to
23 September 2017
at
20:00
. Matinee on
23 September
at
14:00
27-30 September at 20:00 (no matinee on 30 September)
PLACE: Warehouse Studio Theatre, rue Waelhem 69a, 1030 Schaerbeek, Brussels.

PRICE: 16 Euros for Adults, 14 Euros for under 18s and groups
Seats are not numbered.
SCHOOL GROUPS:
- We offer school groups one free Teacher ticket for every 10 students. School groups should book using the online system then write to bss.boxoffice@gmail.com if they would like a "page-to-stage" talk before curtain up.
- SPECIAL OFFER FOR SCHOOL GROUPS: 7 Euros per ticket on opening night and at the Saturday matinee! (Only available by email to bss.boxoffice@gmail.com)
BOOKING:
Click "Book" on the bottom-right of the page and follow the instructions.
You can pay by Credit/Debit card or make a reservation for transfer 'virement' payment.
Bank details will be shown at the end of the booking process, or you can click on 'event details'.
DO PLEASE book using the online system - we occasionally get payments with no booking!
In case of booking problems, email us at
bss.boxoffice@gmail.com
'Bank Transfer(Reservations)' Please make payment to:
Brussels Shakespeare Society
IBAN: BE85
3100 2005 1606
BIC: BBRUBEBB
Please put 'Troilus', the performance date, and your
booking name
as a payment reference, otherwise we may not be able to match your payment to your ticket reservation! The bank details will be shown again at the end of the booking process.