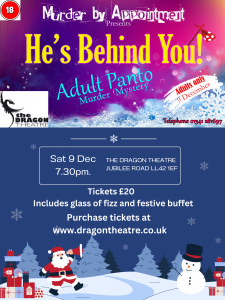 He's Behind You!
Dick Whittington has made is fortune in London and is ready to marry the love of his life when disaster strikes - a murder has been committed! Someone has fed his pussy a poisoned apple, and it's up to you to find the culprit.
Join Dick and his panto friends to solve this fun and filthy murder mystery - for big boys and girls only! Is the Dame as innocent as she claims? Oh no she isn't! Keep your wits about you and make sure the Baron's not behind you!

Includes glass of fizz and festive buffet.
Saturday 9th December @ 7.30pm
Tickets £20
Rated 18.
Book
Venue The Dragon Theatre
Jubilee Road
Barmouth
Gwynedd
LL42 1EF