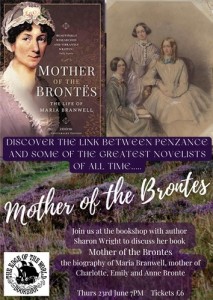 Penzance was the birthplace of Maria Bramwell, the mother of arguably the most famous literary sisters of all time. Join us as we chat to author Sharon Wright about her book, which uncovers the unlikely romance between Maria Branwell and Mr Bronte.
Her children inherited her intelligence and wit and went on to write the classic masterpieces Wuthering Heights, Jane Eyre and The Tenant of Wildfell Hall. Yet Maria has remained an enigma while the fame of her family spread across the world. It is time to bring her out of the shadows, along with her overlooked contribution to the Bronte genius.
Join us for an evening of warm conversation and literary loveliness in our bookshop social devoted to Mrs Bronte. 
Thursday 23rd June 2022 at 7pm
Tickets £6.00