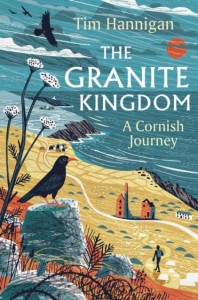 We are delighted to welcome back to the bookshop Tim Hannigan, travel writer and biographer whose new book is a celebration of his beloved Cornwall. 
He jokes that this is an attempt to write a travel book about the place he is from. From such an accomplished writer, we of course are treated to a new understanding of the Cornwall he knows intimately. Journeying from the woodlands of the Tamar to the remoteness of Penwith - via the wilderness of Bodmin Moor.
In this zigzagging journey on foot he takes us to its landscapes, histories, communities and sense of identity. He explores the many projections and tropes that writers, artists and others have placed upon it. Combining landscape and nature writing with deep cultural inquiry, The Granite Kingdom is a probing but highly accessible tour of one of Britain's most popular regions. This is a fascinating read full of history, myth, folklore and literary representation with the geographical and social reality of contemporary Cornwall.
If you love Cornwall then there is plenty here for you. Join us for a fascinating evening exploring the place we love.
Thursday 25th May 2023 - 7.30pmTickets
£6.00