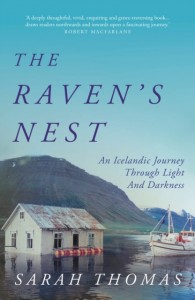 We are thrilled to welcome author Sarah Thomas for a discussion and reading from her memoir 
The Raven's Nest: An Icelandic Journey Through Light and Darkness
, set in Iceland's otherworldly Westfjords. This beautifully vivid book is an exploration of how chance can change the course of a life, of forging belonging in another culture, and of Sarah's falling in love with the light and language of Iceland, and a man, and the old wooden house they make their home. It is a profoundly moving meditation on place, identity and how we might live in an era of environmental disruption.
As we head towards Autumn, this event takes inspiration from the Icelandic tradition of
kvöldvaka
. On farms as the days grew shorter, thoughts and hands turned to the indoor work of the making and repair of clothing, tools, utensils. Gathered in a single room, someone would read aloud to the household while they did this. You are invited to bring along any quiet handiwork - for example knitting, mending, whittling, sketching - to do during the event. Or just sit back and enjoy an evening of conversation between Sarah and Rachael from the Edge of the World. Sarah will be signing books afterwards.
'The Raven's Nest is a deeply thoughtful, vivid, enquiring, genre-traversing book, closely attentive to the people and the landscapes with which it dwells. It asks hard questions - and offers no easy answers - about what it means to belong to a place, and to live well upon a part of the earth. Sarah's writing - crisp in its details, patient in its rhythms - draws its readers northwards and inwards upon a fascinating journey.' -
 Robert Macfarlane
'Truly a thing of wonder'
- Kerri ni Dochartaigh, author of Thin Places
'Lyrical [and] thoughtful'
- Cal Flyn, author of Islands of Abandonment
Tuesday 12th September 2023 - 7.30pm

Tickets
£6.00