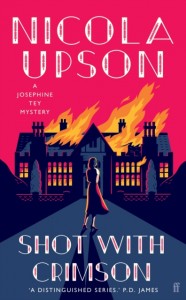 Join us for an evening to celebrate the publication of
Shot with Crimson
, the latest in the marvellous Josephine Tey series by Nicola Upson.  
Josephine Tey has had two careers, one real, one imagined. During her life in the first half of the twentieth century, Tey was a writer of classic crime fiction like the Franchise Affair and The Daughter of Time. In an afterlife, she is the lead character in
Nicola Upson's
crime novels, now a series of eleven books, starting with
An Expert in Murder
. Nicola originally wanted to write a biography of Josephine Tey, surprised that little had been written by such a key author from crime's 'golden age'. However she soon found that much was obscured and the more she discovered the more Josephine became an enigma. With such an intriguing character at her fingertips, Nicola decided to set her into a fictional world and the best-selling series was born. Many of the books have a Cornish setting such as the atmospheric Dead of Winter where the action centres on St Michael's Mount, Christmas 1938 and so it is not surprising that they have been very popular with our customers over the years. 
The latest book, Shot with Crimson starts in September 1939, and the worries of war follow Josephine Tey to Hollywood, where a different sort of battle is raging on the set of Hitchcock's Rebecca. Then a shocking act of violence reawakens the shadows of the past, with consequences on both sides of the Atlantic, and Josephine and DCI Archie Penrose find themselves on a trail leading back to the house that inspired a young Daphne du Maurier - a trail that echoes Rebecca's timeless themes of obsession, jealousy and murder. 
If you are new to the series or a long-standing fan this will be a fun evening not to miss.
"The novels can be read in any order, the important thing is to read them all."
The Times
"A class above the usual crime fiction." 
Independent
Thursday 16th November 2023 - 7.30pmTickets
£6.00