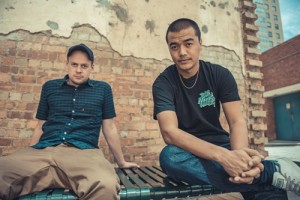 After selling out acoustic shows in Sydney and Brisbane, it was a matter of time before Horrorshow took their unplugged show on an intimate national tour. The electrifying DJ and MC become vocalist and band, stripping back the roaring sub bass and booming PAs, and bringing back into focus the core of the song: the flows, the instrumentation and the singing.
It's comes off the back of a couple of crazy years, including back to back #2 ARIA records (King Amongst Many and One Day's Mainline), AMP shortlisting, AIR, J Award and ARIA nominations. Add to that a series of crazy tours and festivals culminating in a huge show at the Enmore Theatre celebrating the One Day album.
The first artist Horrorshow called on to join them was Tuka from Thundamentals. While Thunda's album So We Can Remember has gone gangbusters in 2014, Tuka's prolific and inspired songwriting makes him the perfect artist to team up with on this unique run of shows. Big things are expected in 2015 as Tuka follows up his critically acclaimed Feedback Loop with the much anticipated Life Death Time Eternal. It'll be the first chance to hear his new material, in its most raw and intimate state.
Special guest on the Listen Close Tour is the beatbox and vocal sensation Tom Thum - a guaranteed show stealer who'll be bringing his world renowned live performance to the stage and making it very difficult for Tuka and Horrorshow to follow.

Thursday 12th of March 7pm
Tickets $30+BF