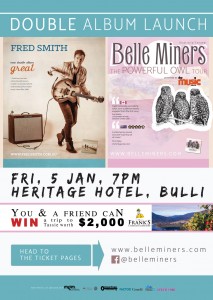 DOUBLE ALBUM LAUNCH - FRED SMITH & BELLE MINERS
Friday the 5th January
Doors open @ 7PM
Join us for an exceptional evening of music combining the album launches of two exceptional talents, Belle Miners and Fred Smith, who each will be launching albums at the Heritage Hotel.
Folk/pop band Belle Miners released their debut album
Powerful Owl
in November and it has been described as having
"a living, breathing quality to it like the best of Missy Higgins' work"
-
Jubilant (LA)
.
The Music
writes
"Belle Miners trade in effortlessly euphonious soundscapes, drawing in their listeners with lush, soaring harmonies, strong, powerful melodies and personable lyrics set against deftly executed, acoustic-driven instrumentation."
The trio, Canadian-based Felicia Harding and Marina Avros and Australian-based Jaime Jackett (from Broome) combine exquisite harmonies and relatable stories into a 10-track upbeat sonic journey covering themes from love and loss to overcoming life-threatening illness. 'Strange World' and 'Night Flight' are inspired by Jaime's 11-year's spent living with brain cancer. Lead single 'Fall In Love With Me' is dedicated to same-sex marriage, and '25 Years' is an ode to enduring relationships.
Fred Smith. Songwriter, comedian, raconteur and author Fred Smith presents songs from his rich back catalogue and his new album "Great" – a wry interrogation of American politics, history and pathologies. "
Fred Smith is an exceptional songwriter and certainly the equal of Bogle, Walker and Schumann…the most interesting folk musician working in Australia. In tune with the times and prepared to reach beyond predictable folk formats, he is endlessly innovative and creative. He is also very funny
" Bruce Elder, Sydney Morning Herald
https://www.fredsmith.com.au/
https://www.belleminers.com/