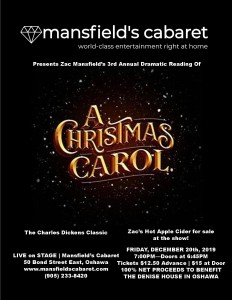 Zac Mansfield's 3rd Annual Dramatic Reading Presentation of
CHARLES DICKENS'
A CHRISTMAS CAROL
Net Proceeds Will Be Donated to THE DENISE HOUSE in Oshawa.
FRIDAY, DECEMBER 20th, 2019 at 7:00PM
at the MANSFIELD'S CABARET, 50 Bond St E, downtown Oshawa
$12.50 Advance
$15 At Door
(S/C extra on all prices)
Seating is first come, first served. The venue is not wheelchair accessible, at this time.
ZAC MANSFIELD'S WORLD FAMOUS HOT APPLE CIDER WILL BE AVAILABLE FOR PURCHASE AT THE SHOW!
Bah, humbug!
Zac Mansfield's annual presentation of A CHRISTMAS CAROL returns to Oshawa! After a successful tryout run in 2013, and annual readings in 2017 and 2018, we are pleased to present another dramatic reading of Charles Dickens' Christmas classic!  
Using Dickens' own public reading version he used on reading tours, our readers will take you through a trip of holiday nostalgia as the timeless story of Scrooge is told by dozens of characters.
This is the perfect family adventure. The book is written in staves, and between each stave we will have a Christmas carol sing-a-long! Lots of fun!
100% of net proceeds from this event will be donated to The Denise House in Oshawa. 
This dramatic reading will be enhanced by a stunning video design and terrific sound effects (some of which will even be done live from the stage!)
All Readers volunteer their time for this annual charity event.
Absolutely no refunds or exchanges. All sales final.