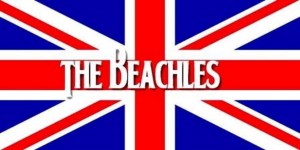 4-PACK AVAILABLE FOR $80 INCLUDING FEES ($18.75/PERSON + $5 BOX OFFICE SURCHARGE). GREAT SAVINGS!Friday, January 24th, 2020 8PM
Doors open at 7:30PM

The Mansfield's Cabaret Presents

THE BEACHLES

A tribute band faithfully recreating the magic and the music from the Beatles' iconic back catalogue!
LIVE 4-PIECE TRIBUTE BAND! Bass, drums, guitars, keys, and four vocalists - the Beachles faithfully and accurately reproduce the sound of-
THE BEATLES!

LIVE onstage at The Mansfield's Cabaret!
(Venue is not wheelchair accessible. All sales final; no exchanges or refunds.)