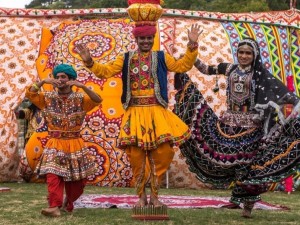 Circus Raj's cast of dancers, illusionists, aerialists, acrobats and rope walkers, with the eye-watering displays by the fakir, presents a colourful, vibrant, fast-moving extravaganza of intrigue, drama, feats of daring, music, laughter and surprise.
The show starts with an introduction of the artists: The story unfolds in a series of breathtaking acrobatic and hilarious performances that leaves everyone stun and amazed include the legendary 'Kachchhi Ghodi dance;, a model horse structure colourfuly decorated with beautifully embroidery and famous glass work, with the musical escort providing entertainment for the entire family.
Their spectacular, awe-inspiring and unique shows toured Europe extensively all through the summers of 2015 and 2016, thrilling audiences of all ages at festivals, melas, community events and carnivals - including Glasgow and Leicester Melas and numerous festivals including Glastonbury, Camp Bestival, Bestival, Lunar, Imagine Watford, Richmond upon Thames, Readipop, SKIrcus and Forde in Norway and Walthamstow Garden Party..
If sold out some tickets may be available on the door