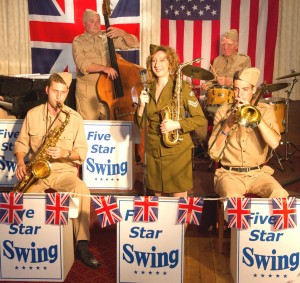 'Five Star Swing' presents a New & Exclusive 'Feel Good' 1940's matinee show 'Hits From The Blitz'
One of the many things that came out of the UK during the 2nd World War years was British people's determination to sing-a-long and help raise the mood out of all that was bad around them.
This unique brand new & exclusive 'Feel Good' 1940's matinee show recreates a sing-a-long platform for the audience to join in ! Songs brought to life by the singers and multi-instrumentalists of the Five Star Swing band, ("Superb, they swing like crazy!" – Sheila Tracy, BBC). Featuring Simone from the latter days of the Ivy Benson Orchestra plus Chris Smith (Jnr) composer and arranger for Glenn Miller's Brother, Herb and the BBC Radio Big Band.
Glenn Miller | Anne Shelton | Bud Flanningan | Count Basie | Gracie Fields | Arthur Askey | Vera Lynn | Doris Day | Tomy Dorsey | Frank Sinartra the repertoire list just goes on.
The song list also goes on …. It's A Long Way To Tipperary..Pack Up Your Troubles…Lilli Marlene..The White Cliffs Of Dover…I'll Be Seeing You…There'll Always Be An England..A Nightingale Sang In Berkeley Square….Bless 'Em All..Roll Out The Barrel…Run Rabbit Run..Wish Me Luck..We're Gonna' Hang Out The Washing..Kiss Me Good Night Sergeant-Major…The Very Thought Of You..Bye Bye Blackbird…Little Brown Jug…Tuxedo Junction..American Patrol..Chattanooga Choo Choo..Pennsylvania 65000..A String Of Pearls..Moonlight Seranade..In The Mood to mention but a few
Join us for an afternoon of sing-a-long and memories that will create the uplifting mood of the 1940's era.
You can find all our shows on Facebook: www.facebook.com/oeplive. Please do take a look and Like our page.
Friday, 16th March 2018
Show:
2.00PM Doors: 1.30PM
Tickets:
£15.50 (inc booking fee)