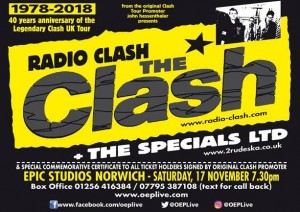 Radio Clash and The Specials Ltd recreate the legendary 1978 concert tour just the way it was, promoted by the original Clash promoter John Hessenthaler!
In 1978 John Hessenthaler against all local authority opposition, promoted THE CLASH at various locations through the UK. The support was The Coventry Automatics in the process at that point of changing their name to The Coventry Specials, later to become known as just THE SPECIALS.
40 years later, Radio Clash will recreate THE CLASH in sound and vision together with the set list they performed in 1978 and also on the same night exclusively THE SPECIALS Ltd will perform with passion, the classic SPECIALS songs. 
Whether you were alive or not at the time of the 1978 concert tour or were there - this is a must-be gig for everyone! This show will definitely 'Rock the Studios' !      
This show is a STANDING show.
All disabled bookings to go through the OEP Live! Box Office on 01256 416384.
You can find all our shows on Facebook: www.facebook.com/oeplive. Please do take a look and Like our page.
Saturday, 17th November 2018 
Show: 
7.30
PM Doors: 6:45PM
Tickets:
 £19.50
 (inc booking fees)