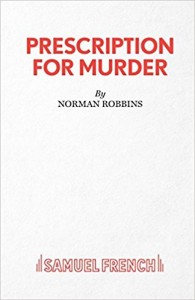 Author Norman Robbins
In the seemingly quiet town of Bere Knighton there is never a dull moment for Richard Forth. Not only does he have a hectic work schedule and an awkward friendship with his ex-girlfriend, but his wife, Barbara, is constantly ill and neither Richard nor any of his colleagues know what is wrong with her. Then a stranger arrives in town, Eric Dawson, claiming to have been good friends with Richard's second fiancée, a woman Richard strongly denies any knowledge of knowing.
This intriguing play moves at frenetic pace as Barbara's health deteriorates leading the town and the audience to wonder if there isn't something more sinister going on.
Thursday 12th to Saturday 14th April 2018
Doors open at 7:15pm. Performance starts at 7:45pm
Tickets
£10