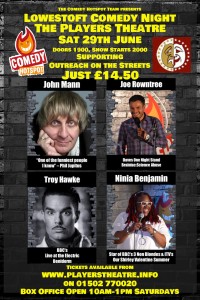 Promoter – Jim & Nick Promotions Ltd
Comedy Hotspot are returning their top-class comedy line up to Lowestoft. We have an amazing line up for our second show, with Nina Benjamin of BBC's 3 Non Blondes & ITV's Our Shirley Valentine Summer headlining the show. 
Saturday 29th June 2019 - 8pm (Doors 7pm)

Tickets
£14.50
Please be aware this is adult comedy, and may not be for the easily offended.