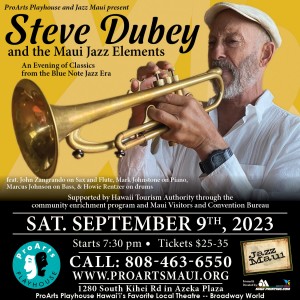 Saturday, September 9th at 7:30 pm 
The  Blue Note record company released over 1000 albums from 1949 to 1966, of which 900 of them proved to be labeled as "Classics" in the history of American Jazz music. 
There's nothing quite like the classic sound of a Jazz Quintet fronted by Trumpet and Sax, backed by the canvas of a traditional rhythm section :  Piano, Bass and Drums. Artists such as Art Blakey, Miles Davis,Joe Henderson, Dizzy Gillespie, Hank Mobley, Oscar Peterson, Ron Carter, Freddie Hubbard, Toot Thielemans  and many more recorded on the Blue Note label. 

Trumpeter Steve Dubey has been an active member of the Kauai music community on the island of Kauai for the last three decades. He has appeared with Michael Ruff, Lao Tizer, and has been a pillar in Kauai's premier Latin jazz/salsa ensemble Rumba De Fuego. More recently he has appeared as a quest artist with Maui's own Angela and Phil Benoit, both on Maui and their West Coast Tours.

The Maui Jazz Elements include some of Maui's finest : John Zangrando on Sax and Flute, Mark Johnstone on Piano, Marcus Johnson on Bass, and 
Howie Rentzer
on drums.

This gathering of musicians will pay homage to the legacy of the artists who created the Blue Note sound and brought us this unique American tradition. A night not to miss!!
Tickets
Premium Seating: $35 Extra large and comfy front row seats from A1 to A6 with side tables
Preferred Seating: $30 Best-view seating in either the Front row (seats A7 to A15) OR the front row of any elevated section
Regular Seating: $25
Discounted for Slightly-Obstructed View: $20

Buy a Jazz Maui Show Package for $5 off each show at any seating tier! 
Show packages available by calling the box office at 808-463-6550
Other upcoming dates in the Series:
July 15th at 7:30pm: Ginai's Jazz Island
November 11th at 7:30pm: Stanton Kessler presents A Taste of Kansas City
January 6th at 7:30pm: Special Guest TBA
March 9th at 7:30pm: Special Guest TBA
May 11th at 7:30pm: Special Guest TBA

Run time:  90 minutes - no intermission

For information on our Access for All initiative, please go to ProArtsMaui.com/Access-for-All/