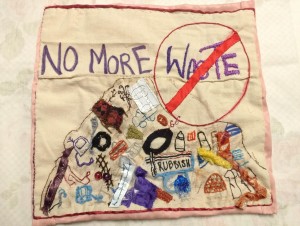 LOVING EARTH PROGRESS ONINE EXHIBITION UNDER CONSTRUCTION
Wednesday 6 January – Sunday 7 February
Click here to enter exhibition
The LOVING EARTH PROJECT celebrates people, places, creatures and other things that we love but which  are threatened by  growing environmental breakdown. It offers a way in to help people engage with the issues without being overwhelmed.
Climate break-down and species extinctions are happening all over the world. We hope this  project will inspire people to make connections and change our habits, to live more sustainably for the sake of love. The environmental crises will not go away with Coronavirus, and this project is  offers ways  to be creative and constructive, even when in isolation.
Individuals and groups are invited to explore how the future of something, someone or somewhere that we love is affected by our own actions.  The exploration can take many forms, including a community textile project which you can contribute to, or borrow to display, to inspire others. 
This exhibition will display over 80 very varied textile panels that have Now been made for the project, some of them made by Merton residents. A range of online events during the exhibition will enable others to join in:
A virtual panel discussion
'Loving Earth Conversations' on 8th January (more info here)
,  a spiritual retreat  (for people of any faith or none) on 9th January, and introductory textile work-shops offer different ways to join the project. Informal
Zoom events
  to help you get started and catch up share progress and questions. 
More information about the Loving Earth Project is at lovingearth-project.uk
Click here to enter exhibition