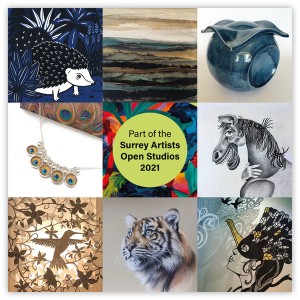 Surrey Artists Open Studios 2021
is an opportunity to visit artists in studios across the county between 5th and 20th June.
As part of this fantastic Surrey Arts event, the Robert Phillips Gallery is pleased to host a group of local artists who between them will be exhibiting paintings, drawings, digital prints, jewellery, ceramics, paper and textile art. Explore the work of eight artists at one time here upstairs at the Riverhouse Barn and find out more about them and their work.
The artists involved are:
Klara Smith
Ceramics/Digital Print/Printmaking
Graham Smith
Ceramics
Dawn Thornhill
Craft
Jackie Kirk
Printmaking
Sophie de Taranto
Jewellery/Photography
Jaroslaw Horbacz 
Drawing/Mixed Media/Painting/Photography
Jo Maynard
Drawing/Painting/Printmaking
and
Keira Graham
Craft/Textiles
The exhibition is open every day from
Thursday 3 June to Sunday 20 June, 10am - 4pm