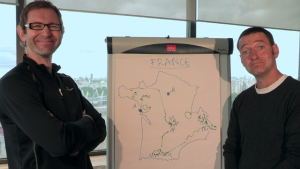 Join us for an hour or so with renowned cycling commentator and author Matt Rendell, who will be talking to Ned Boulting about his book "Colombia Es Pasion!".
In "Colombia Es Pasion!" Matt explores the lives and dreams of the cyclists who have risen to the highest levels of their sport. The book tells inspiring stories of overcoming poverty and violence, sickness and corruption. It explores the unique sporting microcosm that lies behind Colombia's world-beating riders, and how their achievements spurred a nation to prosperity and peace.
Matt Rendell
learns something new about professional road racing every day, even after 25 years of thinking and writing, which means either that cycling is a sport of infinite depth, or that Matt has a really bad memory. 
He has worked within WorldTour teams, for event organisers, and in a range of roles - from logistics to cameraman to race commentator and director - for television coverage, but always returns to his other passion, writing. He writes the books and articles that he thinks ought to exist.
Ned Boulting
became a reporter for ITV's Tour de France coverage in 2003 and has reported at every Tour since, as well as on other cycling events including the Tour of Britain and the Vuelta a España. Since 2016 Ned has commentated for ITV4 on the Tour de France, and is a firm favourite at Riverhouse.
Sunday 25 July - 2pm, indoors
Tickets £10 or £25 to include a signed hardback copy of his latest book