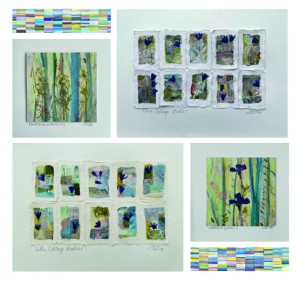 Moments in Time - 
An exhibition by Sarah Simonds-Gooding 
Wednesday 29th September - Sunday 10th October
10am - 4pm
Robert Phillips Gallery (upstairs at the Riverhouse Barn)
The feeling of continuation and the subtle changes that occur over moments in time is the basis of this recent body of works.
It could be the more obvious moments in time like the continual, subtle changes of the movement of water ebbing and flowing, the changes to a skyline at different times throughout a day, or the patterns created as you walk through a wood.
But it also delves into more abstract moments in time, like the continuation and fragility of breathing, the changes in one's mood throughout a day or month, or memories of the past that become fragments of moments in time, as the memory doesn't absorb the whole scene just selected parts.
Working mainly in mixed media, Sarah's art is abstract and pattern-like with a repetitive nature.
Sarah moved into art after becoming a mother, previously she carved out a successful career as a graphic designer and retail buyer.
ENTRY TO THE EXHIBITION IS FREE.
Book
Venue Robert Phillips Gallery
Riverhouse Arts Centre
Manor Road
Walton on Thames
Surrey
KT12 2PF