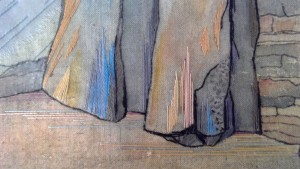 Seen Unseen
An exhibition of work exploring the visible and that which is hidden from sight.
Phoenix Contemporary Textiles
13th October – 31st October 2021
Artists from the South London based group Phoenix are pleased to present work from their latest exhibition, SeenUnseen at the Robert Phillips Gallery. The work of the eleven-strong group of artists explores interpretations as diverse as climate change, biodiversity, graffiti, mindfulness, politics, memory and fantasy.

When the title was selected back in 2019, no one could have envisaged how much the world would have changed by the time the work was exhibited and how relevant the title would be to our artists in the intervening period.
Bringing together a number of works from various art forms, including textiles, photography, sculpture, painting, mixed media and printmaking, the exhibition showcases the artists' varied creativity.
Alison Hird- Beecroft   Lynne Butt
Jo Coombes                  Maria Walker
Joan Bingley                  Marie-Ghislaine Beauce
Joan Glasgow                Robertta McPherson
Kate Davis                      Rosaline Darby
Phoenix Contemporary Textiles brings together artists with established diverse textile-inspired practices and holds exhibitions every two years, with artists employing diverse methods and a variety of media to create large and small scale two-dimensional work, sculptures and installations. Our exhibitions offer a showcase of different perspectives on a common theme. Our monthly meetings allow us to create a continual dialogue about our work.
https:://phoenixcontemporarytextiles.co.uk
IG @phoenixtextiles