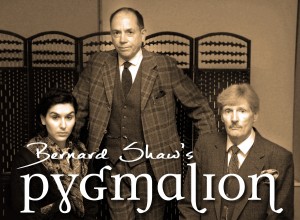 Enigma Theatre presents Bernard Shaw's 'Pygmalion'
"Yes, you squashed cabbage leaf, you disgrace to the noble architecture of these columns, you incarnate insult to the English language: I could pass you off as the Queen of Sheba."
Professor of phonetics, Henry Higgins, takes on his most difficult task when he makes a bet that he can train a common flower girl, Eliza Doolittle, to speak like a lady and pass for a duchess at an embassy ball. While at first success seems "not bloody likely", it soon becomes clear that Eliza's transformation has been a triumph of the professor's art. But will she thank him for it?
This popular classic by George Bernard Shaw is his most famous and best-loved play, and inspired the 1956 musical 'My Fair Lady'.
After their well-received sell-out production last year (Alan Ayckbourn's 'Comic Potential'), Enigma Theatre are delighted to be returning to Riverhouse once again, to take you back to Covent Garden, 1914, where our story starts...
Wed 29 October to Sat 1 November 7.30pm
Tickets
£12 (£10 concs)