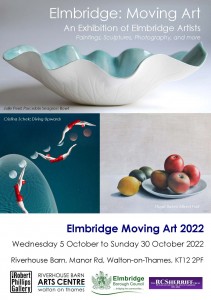 Wednesday 5 to Sunday 30 October 2022
Open daily 10am - 4pm
Admission free
The Elmbridge Moving Art exhibition is coming back to the Robert Phillips Gallery at the Riverhouse Barn Arts Centre from 5 October to 30 October 2022  to showcase the work of more than 80 local artists. Pieces cover various genres and use a wide range of media, including oil, acrylics, watercolour, photography, mixed media, jewellery and sculpture.
Artists aged 15+ were invited to submit one or more pieces of art for consideration and the final results are an outstanding testament to the standard of art in the borough. Elmbridge Moving Art is a community arts exhibition run by Riverhouse in partnership with 
Elmbridge Borough Council
 and 
The R C Sherriff Trust
. Some work will be for sale.
Elmbridge Moving Art 2022 – Showcasing Artists Working in Your Borough