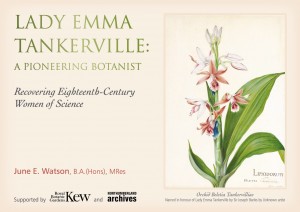 Wednesday 29 June – Sunday 10 July 2022
10am - 4pm daily
Free admission. No need to book.
Riverhouse Barn Arts Centre is hosting a unique exhibition of twenty-one botanical watercolour illustrations painted by Lady Emma, 4th Countess of Tankerville, (1752-1836); a re-discovered intellectual who made a significant contribution to early modern science in the late eighteenth-century.
This hitherto unknown female botanist resided at Walton House, Walton on Thames, for nearly sixty years from the time of her marriage in 1771 until her death in 1836.  Walton House was a Jacobean mansion commanding a perfect view of Walton Bridge. The house was situated in a beautiful, landscaped park bordering the River Thames reflecting Emma's life-long engagement with horticulture and landscape.
Soon after her death in 1836 Walton House was demolished and rebuilt in 1840 in the Italianate style by her son and heir Charles Augustus, 5th Earl of Tankerville designed by famous architect Sir Charles Barry. The house was renamed 'Mount Felix' by the Gambier family who purchased the property soon after its completion.
Lady Tankerville researched and painted plants to diffuse new knowledge to share with her scientific friends in metropolitan society while staying on the island of Madeira between 1811-1812.  Intriguingly, she wrote scientific reports on the reverse of each illustration describing the uses of each plant for medicine and commerce. The illustrations also reveal her knowledge of Linnaean taxonomy and include information of when the plants were introduced to the island.
They form part of the 'Tankerville Collection' of 648 drawings, one of the most important collections at the Royal Botanic Garden, Kew today.
The whole collection was donated to Kew in 1932 after an auction of all the contents of Chillingham Castle, the Tankerville family seat in Northumberland. They include many illustrations by famous eighteenth-century artists such as Georg Erhert and Margaret Meen. 
Emma's exquisite illustrations reveal the work of a woman who made a substantial contribution to early modern science and knowledge exchange who was subsequently airbrushed from the male-centred histories of science. She deserves a place in the history of science for her many contributions to botany.
This exhibition was researched by historian June Watson in collaboration with the Head Curator at the Royal Botanic Garden, Kew to raise the profile of the 'Tankerville Collection's' national importance and need for costly conservation.
In-depth research of the Tankerville family papers was also held at Northumberland Archives, revealing the little-known history of Walton House, demolished to accommodate the new house on the same site. The Mount Felix estate however no longer exists, apart from the distinguished Clock Tower.  It was said that Barry always included a tower in his buildings due his love of Italian architecture on the Grand Tour.
Images and details of all the plants are featured in a booklet written to accompany the exhibition and will be on sale at Riverhouse Barn.
There is also a free talk about Emma's life and work on Saturday 9 July at 10.30am. 
A Trailblazing Woman of Science