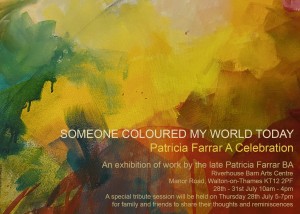 Patricia Farrar A Celebration
An exhibition of work by the late Patricia Farrar BA10am - 4pm Thursday 28 July - Sunday 31 July
"We don't destroy the things we love, and I see a real validation in encouraging people, through my work, to become more aware of the natural world. My paintings seek to celebrate the earth's beauty, mystery and vulnerability. We are certainly at a time when the world needs hope and joy and more love and I believe that art has the capacity to provide a glimpse of these qualities.
The key is 'listening'. Listening involves a stillness and a connection with what's happening around us. This connectedness with the natural world creates a different kind of awareness. Simply looking with our eyes places the viewer outside – an onlooker – to the natural world, whereas listening, feeling, smelling, waiting, allow for a deeper sensory perception to happen. So listening to the sounds of the natural world and what it is saying to us brings about a new relationship of unity and closeness. There is a dialogue! My expectation is that this connectedness with the earth will bring about an awareness of a world beyond our field of vision, resulting in a higher sensitivity to the earth's needs.
The inspiration for the paintings comes from the garden as this is the only space available during the lockdown imposed by the pandemic. Listening to the sounds and seasons as they reveal their own unique appearance has provided endless moments of understanding and delight. The garden has become a place of quiet stillness during this period of seclusion where the birds have been able to take back the skies and the natural beauty of the garden thrives. The essence of my garden experience is always expressed in colour! Roy de Maistre, an Australian artist, expressed it this way, "Colour is…the very song of life…the spiritual speech of every living thing."  Patricia Farrar