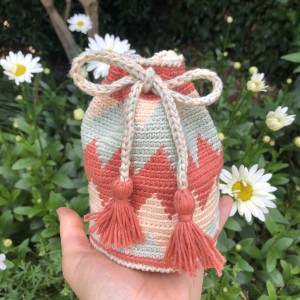 Riverhouse Hookers - Tapestry Crochet Bag - 4 Week Course
You'll be making a mini sized "Columbian bag" with the option to start a larger bag if you wish. Learn all the basic techniques used to create a Wayuu or "mochila" style bags so that you are confident enough to design your own bag or make one from a pattern. You will love this beautiful and very useful, crochet art-form.
Tutor:
Merrian Holland
Saturday 3:30-5:30pm for 4 weeks.Cost
: £70 (4 x 2 hour sessions) includes materials for mini mochila style bag.
Dates:
This is a 4 week course, running on Saturday afternoons:
Week 1 : Saturday 25th February 3:30 – 5:30pm
Week 2 : Saturday 4th March 3:30 – 5:30pm
Week 3 : Saturday 11th March 3:30 – 5:30pm
Week 3 : Saturday 18th March 3:30 – 5:30pm
Cost
The course is £70 for 4 weeks and includes a kit with everything you need to make the mini bag.
To book: Tapestry Bag Crochet Course

To contact tutor email:
mezzamay@icloud.com