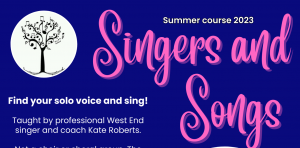 We're singing into the Autumn with a new ten week singing course at Riverhouse. Find your SOLO voice and sing! Taught By Professional West End singer and coach Kate Roberts...
All styles and genres of Popular Music:
Musical Theatre Jazz, pop, soul, and more
Friendly & informative Classes
Adults 16+
Classes are held on Mondays on these dates:
11/9, 18/9, 25/9, 9/10, 16/10, 23/10, 30/10, 6/11, 13/11 and 20/11
All classes  7.30pm to 9pm.
Price for ten weeks - £140For more information and to book, phone Elaine Hallam on 07956 323782 or email info@singersandsongs.com