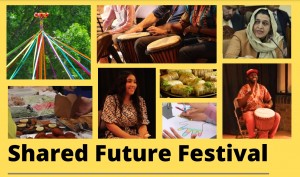 Sunday 2 July 2023 - 11am to 4pm
A series of exciting events, talks, workshops, and performances are lined up for the third edition of the Shared Future Festival 2023 on Sunday 2 July 2023.
We join hands with Elmbridge CAN, Elmbridge Cares, and the local communities to celebrate the importance of community, diversity, and sustainability, and continuing to build a better future both globally and within Elmbridge. 
The theme of this year's refugee week is
compassion
.
Exciting events included street food stalls, craft stalls, talks by guest speakers (including Ex Afghan Minister of Women's Affairs), St Georges School 6th Form students talk, music, and Syrian and Turkish dancing, choir performance by Sing Squad, free Maypole dancing workshop (
pre-book online
), free African Drumming workshop (
pre-book online
), and a film screening.
Save the date in your diary and drop by throughout the day to enjoy our activities.  Come and enjoy the delicious food stalls, performances, inspirational talks, music and art​ at Riverhouse this summer!
Reminder: 
The car park will be closed
for the event.  Please consider using public transport or parking at other carparks. Locations of carparks nearby can be found at 
https://riverhousebarn.co.uk/your-visit/useful-info/
Please bring cash, some of our stall holders do not have card readers.Free Entry to the Festival.
Sunday 2 July 2023 - 11am to 4pm

Schedule:
11:15 am         - Free
Maypole Dancing
workshop,  
Book here
,
outdoors
12:00 pm         - Talk by
Hasina Safi
, Ex Afghan Minister of Women's Affairs,
in the Barn
1:00 pm           - Free 
African Drumming workshop by Bantus Arts
: 
Book here
,
outdoors
2:00 pm           - Talk by
St George's School
,
outdoors
3:00 pm           - Choir performance by
Sing Squad
,
in the Barn
3:20 pm           -
Syrian and Turkish dancing
,
in the Barn