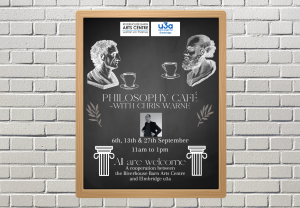 What's going on?  Do you hear people complaining things aren't fair, or that education's in decline, or that a new artwork isn't art?
Behind all these questions lurk philosophical issues.  What is fairness?  What is a good education? What is art?  Easy to ask, tricky to answer.
If you fancy thinking more about tricky questions in a friendly, supportive setting, why not join us for a casual meet-up at the new Philosophy Café at the Riverhouse Barn.  There are lots to discuss!
The Philosophy Café is a cooperation between Riverhouse Barn Arts Centre and Elmbridge u3a

Chris Warne studied Philosophy at university and subsequently taught the subject at sixth form colleges in London and Cambridge. He now makes a lot of pictures and is currently in the process of putting together a pictorial essay on the role of the imagination in visual experience. It should be more fun than it sounds!
Free Entry - just drop by!Three different topics on three Wednesdays: 6, 13 & 27 September 2023 - 11am to 1pm