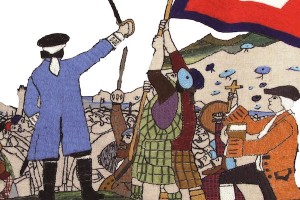 Part 1 - Wednesday 14 October - Sunday 1 November Part 2 - Tuesday 3 November - Sunday 15 November
The Prestonpans Tapestry is a ground-breaking community arts project completed in 2010. Inspired by Bonnie Prince Charlie's doomed attempt to claim the British throne in 1745 and by his remarkable and unexpected victory at Prestonpans, the tapestry was embroidered by over 200 volunteers across Scotland. Totalling 105m, the project created not only a stunning visual narrative of the Prince's campaign but also a lasting legacy which continues to inspire new community projects around the country. We will be showing the Tapestry in two halves due to its size, so we advise at least two visits to the gallery!
Wednesday 14 October 7pm
Opening Day Talk
Discover the fascinating story of this inspirational community arts project at a special illustrated talk by Arran Johnston, historian to the Battle of Prestonpans Heritage Trust, with Dr Gordon Prestoungrange, Baron of Prestoungrange, founding Chairman of the Battle of Prestonpans Trust.
Note: The tapestry was designed by Andrew Crummy, who is also designing our own Mount Felix Tapestry depicting the story of the No 2 New Zealand general hospital which treated 27,000 wounded soldiers from NZ during WWI (more info: www.mountfelixtapestry. co.uk).
Andrew will be catching up with our stitchers at Riverhouse at some stage during this period, so watch this space.
This exhibition and accompanying talks are supported by the Charity of Robert Phillips.
Opening times: Monday to Saturday 10am - 4pm and Sunday 11am - 4pm