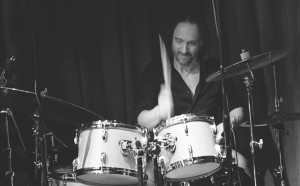 Julian Fenton (drums)
Femi Temowo (guitar)
Jonathan gee (piano)
Ben hazleton (bass)
The quartet's programme covers some pop numbers in jazz and Latin styles, re- harmonisations of Beatles songs and a selection of tunes from melody Gardot, Michel Petrucciani, Herbie hancock and Duke Ellington.
Julian's special guests tonight arepianist Jonathan Gee (no stranger to Riverhouse as a member of Tony Kofi's and Tim Whitehead's bands) and outstanding West African guitarist Femi Temowo (Soweto Kinch and Best Jazz Act MOBO nominee). Be prepared to enjoy a fun and exciting evening of crossover jazz.
Friday 28 April 8pm
Tickets
£15 (students £6)