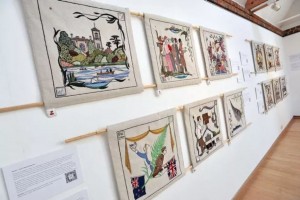 PLEASE NOTE GALLERY MAY BE CLOSED SATURDAY 2 SEPT. FROM 1pm due to a private event
10am to 4pm
Wed 26 July - Sun 3 Sept
Admission Free. No need to book.
The Mount Felix Tapestry returns to the Robert Phillips Gallery. This incredible community project began in 2015 and involved over 800 stitchers aged 6-94. Its 46 panels tell the story of the No. 2 NZ General Hospital at Mount Felix. The stories chosen remember and pay tribute to the bravery of 27,000 wounded New Zealand soldiers who were treated at the hospital during WWI, as well as the nurses, doctors and members of the community who treated and cared for them.
The Tapestry was designed by Andrew Crummy, whose credits include the Prestonpans Tapestry and the Scottish Diaspera.
So many volunteers and stitchers have contributed to the tapestry, from members of the Embroiderers' Guild to primary school children, elders groups, even shoppers in the Heart, visitors to Riverhouse and the Libraries in Elmbridge and many more in New Zealand. 
Every day until Sunday 3 September -  10am to 4pm
Free Entry - Don't book tickets - just turn up!