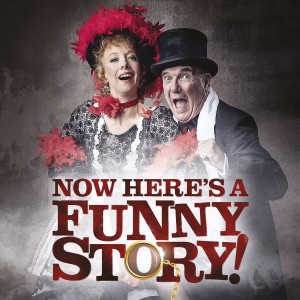 Starring Miss Airlie Scott and Mr Tommy Parsons Directed by Jan Hunt of BBC Television's The Good Old Days fame
Funny Story Productions is excited to be bringing this fun singalong show to Riverhouse, following sell-out London dates and hot from a recent run at the Edinburgh Fringe. A jaunty romp through the history of the Golden age of Music Hall, often delving into its dark underbelly. Experienced music hall artists, Tommy Parsons and Airlie Scott, take you on a musical journey from the very beginnings of music hall through to its 1890s heyday, with the likes of Marie Lloyd and Champagne Charlie, onto wartime jingoism and the cross-dressing Vesta Tilley. Not just drunken toffs, risqué sexuality, homelessness, decadence and war casualties across the empire... but plenty of booze and singalong songs as well!
Written by Mitch Feral, Winner of The Offcut Festival short Play award 'inspiring musical'. Directed by Jan Hunt of BBC Television's 'The Good Old Days'.
"Excellent entertainment with appeal for everyone....amusing, touching, rowdy"
Brian Dazley, Max Miller Appreciation Society
Saturday 16 Sept - 8pm
Tickets £14 (£12 concs)