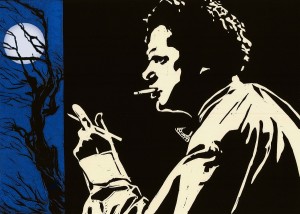 "My early work came out of a person who came willy-nilly out of one particular atmosphere and environment and are part and parcel, park and castle, lark and sea shell, dark and school bell, muck and entrail, cock, rock and bubble, accent and sea-lap, root and rhythm of them" Dylan Thomas
Clown in the Moon (the title of a poem written when Dylan was 14) is a dramatic portrait of the poet's chaotic, frequently hilarious, and all too brief life. Located in a BBC studio, it sets some of Dylan's famous broadcasts and iconic works alongside vivid reminiscences of his clownish antics in pubs, bars and parties, and his encounters with a host of eccentric and volatile women.
This solo show is directed by the award-winning director and actor Gareth Armstrong (Shylock, My Darling Clemmie, Rape of Lucrece, Becoming Marilyn) and is written by award-winning writer Gwynne Edwards (Burton, Dylan Thomas in America).
Leading Welsh actor Rhodri Miles won the Best Actor Award at the Hollywood Fringe Festival for his portrayal of Richard Burton in his one man show, Burton.
Other theatre credits include Othello for The Sheffield Crucible Theatres, Pride and Prejudice and Fish Out of Water both for Bristol Old Vic and the award-winning tour of Dylan Thomas. Notable screen credits include Game Of Thrones for HBO
"Captivating and deeply moving" -
LondonTheatre1
"One of the best"
- British Theatre Guide
Friday 9 March 8pm
Tickets
£14 (£5 students)