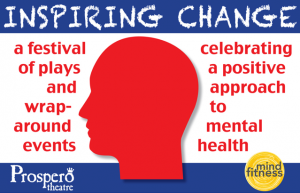 This event This mini festival is part of a wider festival, running for several weeks in various arts and non-arts venues. At Riverhouse it will feature one short play, two short films and a dance piece. A fantastic fusion of top quality arts, practical workshops, informative discussions with top health professionals, art exhibitions, poetry and monologues.  
Rational Self Interest by hashtag Josh Varty
An artist at the end of his career, and a world seen only through computer screens. What other choice is there but the most horrifying and dark? A stark and disturbingly funny look at the madness that is the mental health system.  
Manifest by Urban Interface
A short expressive work, turning inner feelings into physical reality, revealing darker moments from the modern arts industry. The piece brings together contemporary and urban dance styles. 'Manifest' is a truthful story written for dream-chasers..   
Films by Freewheelers Theatre
Steep Rain (5 mins)
Freewheelers Theatre and Media Company presents 'Steep Rain' - stemmed from a survey the company conducted about attitudes to disability recording people's views out on the street, the film has been made to try and help bridge the gap between non-disabled and disabled people - which is often caused by lack of knowledge and understanding on one side and lack of confidence on the other.  
One in a Million (10 mins)
Working for inspiration with Chris Wood's song 'One in a Million', the Freewheelers Youth Theatre present this charming film interpretation of the story of Billy who works in Batemans Fish and Chip shop and his secret desire for Peggy Sue, the shop owner's daughter. It seems that love is thwarted at every turn until fate takes a strange and wonderful twist.    
Saturday 16 June - 7pm (please note this is later than previously advertised!)Tickets
£6 special offer