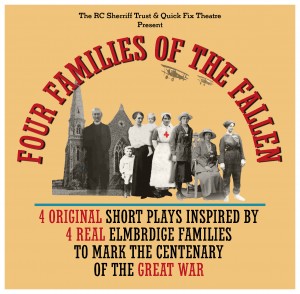 Four x 10-minute original plays inspired by REAL PEOPLE and TRUE EVENTS to commemorate the centenary of the end of the First World War.
In the summer of 1918, four war-weary Elmbridge families of servicemen killed in the great War prepare to attend their local annual memorial service. But with no end to the war in sight for the community divided by patriotism, gender and social class, emotions run high and the families find themselves facing some uncomfortable home truths. This innovative performance was inspired by the wooden roll of honour in St James' Parish Church, Weybridge, and is based on local historical research. It gives an exciting glimpse into local social history as each play gives voice to the past and explores many of the often-unspoken truths about life in Britain 100 years ago.
Devised and performed by the ensemble cast, 'Four Families of the Fallen' is the final stage of a nine-month community theatre project supported by The RC Sherriff Trust and led by Quick Fix Theatre, to mark the centenary of the end of the First World War.
For more see: https://quickfixtheatre.wixsite.com/4families 
Saturday 8 September, 2pm
£2