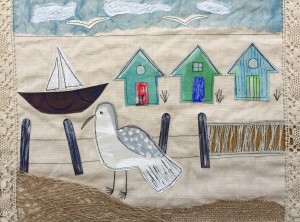 Modus Embroidered Textiles was formed in 1992 and currently has eight members. Each member has their own unique style and works in their individual way, using a variety of techniques and media. The group comes together bi monthly to share and experiment with new ideas.
Members use exciting processes such as collage, heat bonding and dyeing, with techniques varying widely from traditional embroidery to exciting mixtures of medium involving photographs, layered fabrics and abstract interpretations - but always with stitch. you can be sure of vibrant colour, rich texture and great variety. This latest exhibition is entitled 'A Sense of Place' and reflects each artist's interpretation of some of our favourite locations and memories.
Meet the Artists on Walton Heritage Day - Saturday, 8 September.
Wed 5 - Sun 16 September, 10am-4pm
FREE