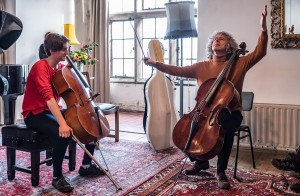 This exhibition is to mark the 10th anniversary of the death of Pamela Spofforth MBE.
Spoff was a violinist who 49 years ago, together with her colleague, the cellist Betty hewlins, founded Pro Corda, a national chamber music organisation for young people. The exhibition will feature specially commissioned photographs of Pro Corda today in its permanent home Leiston Abbey, Suffolk. A bequest in her will supports other chamber music courses whose work is also illustrated in the exhibition.
Check out the website for masterclass: On Sunday 23rd, the gallery will also host masterclasses given by members of the Doric Quartet, as part of a day of chamber music throughout Riverhouse.
Wed 19 - Sun 23 September, 10am - 4pmFREE