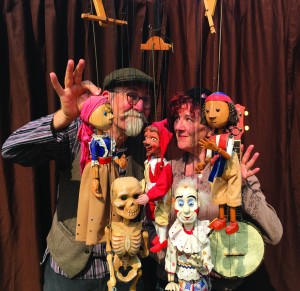 Hand to Mouth Theatre presents The Mystery of Memory Lane
A chance to remember forgotten fun and make new memories with this warm and nostalgic show based around a Bric-a Brac market stall where Mr Shabby and Mrs Chic try to teach a new dog old tricks and solve the Mystery of Memory Lane. Telling stories, singing songs, using tin toys, hand-carved marionettes, seaside Punch and Judy puppets and playing vintage musical instruments they eventually restore the memory of the lost Puppet Dog Toby and find out where he belongs.
hand to Mouth Theatre consists of Martin Bridle and su eaton, creators of high quality, thoughtful and entertaining puppet theatre. Over the years they have entertained audiences at theatres and festivals in the UK, europe, Russia, the UsA, Canada, south Korea and Taiwan. They are based in The new Forest.
suitable for ages 3-8 years
Sat 6 Apr
2pm
£10 / £8 child