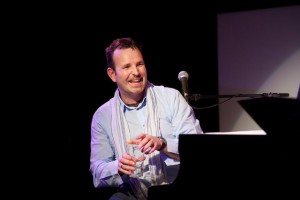 Enjoy an evening of wit, sophistication and sublime music hosted by pianist and singer Andrew D. Brewis who has been entertaining at the piano for over 30 years. From residencies at The American Bar at The Savoy, The Ritz, glamorous parties for celebrities including Tom Jones, Sir Bruce Forsyth, Len Goodman, Jimmy Tarbuck, Cliff Richard, Anton Dubek,  to appearing in cabaret theatres around the world- London, New York and Capetown, his career in the entertainment business has earned him quite a following and reputation!
"You're fabulous" Sir Bruce Forsyth
"Great stuff" Len Goodman   
"Brewis' piano skills are first rate" The Scotsman 
"A great performer" Sir Tim Rice 
A chance to see Andrew in his element, weaving an evening's entertainment around the songs of the greats- Cole Porter, Irving Berlin, Hart, Hammerstein, Skellern and may be even a Brewis or two- delivered in his own British yet distinctive style. 
He is delighted to be bringing an evening of music and anecdotes...celebrating some the world's best songsmiths to The RIVERHOUSE in Walton this Summer. Andrew who works closely with Music In Hospitals and Care  and the team based in Walton is delighted to be donating a percentage of ticket sales to the charity. Beneficiaries include:the elderly, children, people with paysical and learning disabilityes and hospital and hospice patients. They organise around 4500 performances in healthcare centres across the UK every year! 
for more info: andrewdbrewis.com
UPDATE from Andrew: "
I have a brilliant guest artiste joining me on the 8th June at Riverhouse Walton in the form of the brilliant West End Musical  Star and Leading Lady ... Maria Kesselman…  We shall be duetting together ….
A truly golden voice with warmth radiating from every note'.(THE GUARDIAN)
Maria's credits include numerous lead roles including Christine opposite Michael Crawford in The Phantom of the Opera at Her Majesty's Theatre; Jenny Lind in Barnum; Maria Vittoria in Which Witch at the Piccadilly Theatre; Ruthie in The Royal National Theatre production of Lady in the Dark; Laundress in Yerma at The National Theatre Studio; Dvora in Golem at The New End Theatre Hampstead; Eliza Doolittle in My Fair Lady (New Zealand tour); Deanna Durbin in Two Smart Girls at The Queen Elizabeth Hall; Maria in The Sound of Music at The Everyman. Maria also received critical acclaim and a Time Out award for her performance of Melinda Coverdale in A Judgement in Stone with Sheila Hancock (Lyric Theatre, Hammersmith).
As an established concert performer Maria has given solo performances at venues across the UK and Europe: including The Royal Festival Hall, The Queen Elizabeth Hall and The Royal Albert Hall. She has sung and recorded with leading orchestras including The Royal Philharmonic, The English National Orchestra and The BBC Concert Orchestra, and has given recitals for The English National Opera at The London Coliseum."
Saturday June 8, 3pm and 7.30pm
Tickets:
£15 (£8 U16)