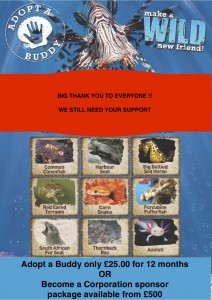 Adopt a Buddy 

You will also receive a special Adopt a Buddy pack which includes:
A personalised adoption certificate which is valid for 12 months / 1 year. 
A full colour fact sheet containing all kinds of interesting information about your chosen buddy.
A complimentary pass for you to come and see us, valid for one occasion, valid for 12 months. 
A personalized plaque located on our adoption wall in the aquarium (a limited number of letters/numbers apply). 
Please note: all adoptions are valid for twelve months and are non-transferable. If your  adopted animal leaves the aquarium (i.e. Is transferred to another aquarium), your adoption will be automatically be transferred to another animal
- Once you purchase the adoption a member of SeaQuarium team will contact you for the details.
Rhyl SeaQuarium
Adopt a buddy species list:
Terrapin           
Porcupine puffer fish                           
Lionfish (venomous)                             
Clownfish                                             
Triggerfish                                           
Regal Tang                                         
Big bellied seahorse                            
Thornback Ray                                                
Common Lobster                                 
Common Starfish                                 
Ballan wrasse                                       
Bullhuss (Shark)                                   
Starry Smooth hound (Shark)               
Starfish                                                
Octopus                                               
South African fur seal
Harbour seal
Corporate Sponsorships -  A plaque displayed with your logo and message that your company supporting us through covid-19 only £100.
Your company can also have a unique sponsorship deal, includes one meeting for your team, employees admission, food & drinks packages. 
Please call us on 01745 344660 or email to rhyl@seaquarium.co.uk