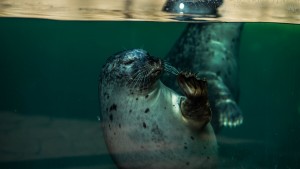 Our outdoor Seal Cove Area that will be open for Breakfast with the Seals,
 this is an outdoor open air exhibit and we are open to all weathers, so please be prepared to bring suitable clothing to keep warm and dry as we've no shelter.
Come and join us in the morning and learn about how our resident animals came to live at Seal Cove. You'll get to visit whilst they eat their breakfast and have playtime.

With exclusive early entry to the SeaL Cove, one of our trained staff members will take you to your VIP table and here where you can watch and see a feeding session with the seals.
Once you have booked your day and time slots.
One of our SeaQuarium team will call you beforehand to take your order of food, this will be the time to let us know of any dietary requirments or allegens.
Please choice one option per person from the menu below  -
Adult full breakfast-  Two free-range eggs, two  sausages,  bacon, beans,, tomato, amd  toast  
Child full breakfast - Egg, Sausage or Bacon and beans and toast 
Sausage bap 
Bacon bap
Warm pancakes topped with your choice of: - bacon, banana or maple syrup
Or 
The standard  continental breakfast bag  will have some combination of fruit, muffins, croissants, pastries, yogurt or biscuits
.
All served with Tea, Coffee, Milk or Fruit juice. per person.
WHAT'S INCLUDED?
Priority entry to the SeaLCove at 9.30am 
A private VIP breakfast table for you 
A seal feeding experience
A delicious breakfast 
A souvenir gift per booking
Then you are free to enjoy the rest of the Seal Cove at your leisure for the remainder of your time slot
All this for just From £30-£25 per person, minimum of 2 people per booking.
To book this experience, simply BOOK ONLINE and call the SeaQuarium with you reference number if you have any allegens on 01745 344660 .
DOESN'T THAT SOUND EXCITING?
We totally know it does, but there is some important information about this experience.
Guests must arrive at the Seal Cove for booked time, if you arrive 20 minutes late we will have to rebook your experience for a different day.
Children aged 16 or under must be accompanied by an adult
If you have special dietary requirements or allegens, please make the Seal Cove aware of this when booking the experience.
We will call you to discuss your encounter before you visit.
Please note no booking will be confirmed as we need 48hours notice before arrival time / date.