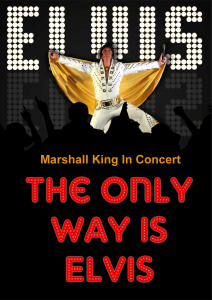 Following his stunning sell out show in January 2017, Marshall King returns to Felixstowe in 2018 the weekend after the King's Birthday. Don't miss this fantastic interactive entertaining tribute to the king of rock n roll , with all the fun and impact of Elvis' original shows. Marshall faithfully includes the full range of jokes and audience interaction as well as a complete recreation of Elvis' band for a hugely memorable show which will have you on a roller coaster of emotions from the first note. This jaw-dropping concert show with 12 piece band, including top musicians, Brass section and backing singers is the ultimate Elvis experience not to be missed. All presented with jumpsuits made by Elvis' very own costume designers!
Saturday 13th January 2018 at 7.30pm.
Tickets £22.50 and £20.50, with concessions (65+/-16) £20.50 and £18.50.
We advise over 16 only - this show may contain adult humour
The Ticket Prices above include booking fees and are the total price you will pay