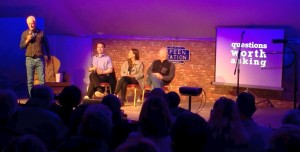 Thursday 14th September 8pm
Speen Festival's
Questions Worth Asking
is back after its acclaimed debut in 2015.
Join an evening of local people telling some amazing and inspiring personal stories that may alter your view of the world.
The speaker list for 2017 includes:
Imogen Barrett
: Should you be afraid of young people voting for Corbyn?
Jo Banks
: What did I witness in apartheid South Africa?
Elliot Wengler
: Will a career in stand-up be worth it?
Dr Chris Walker
: Why do we go to sleep?
Liz Andrews
: Do we really need more women in science?
Andy Forkgen
: How did the London Marathon change my life?
Did you attend this event? Please give us your feedback by clicking here:
https://www.surveymonkey.co.uk/r/THNFVCB