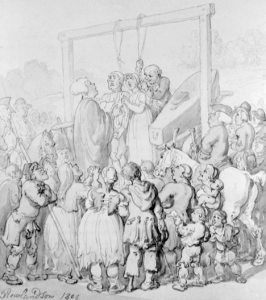 Tuesday 5th September 7 p.m.
'The Morning Turned as Dark as Judgment Day'
Buckinghamshire crime and society through the ages.
Words by Anne and David Worlock. Music by Vicky Barrett and Friends.
​
Life in the villages around us in Buckinghamshire has changed radically in the six centuries covered by the events recounted in this evening of narratives and music. And what is considered a crime and how it should be punished, is a good way of examining those changes. We have gone to the court records and the newspaper accounts to bring stories to light of murder and mayhem, and what happened as a result. From a seventeenth century robbery in Stoke to a twentieth century riot in Wycombe, from fraud in Friday street in the 1750s to an unsolved murder at Haddenham in the 1820s, and from a girl pickpocket in the early 1700s to a prize fight that ended in manslaughter in the early 1800s, we have found stories of good and evil, truth and misreporting, and some very strange outcomes indeed.
Please join us and Vicky Barrett and friends, as we bring to life the voices and the music that whisper of crime and punishment in the byways of Buckinghamshire and of Buckinghamshire minds.
Cheese and wine (cash bar) interval.
Proceeds to be donated to Agape
Did you attend this event? Please give us your feedback by clicking here:
https://www.surveymonkey.co.uk/r/SHDX3HM