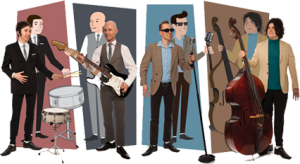 Gigs for cool kids!
Saturday 16th September 10.30 am
Come and join us for a morning of interactive, lively, Robin Hood themed colourful songs including the famous Robin Hood song, plus 'Not in Nottingham' and others from the Disney Robin Hood film. As well as the Dick James Robin Hood TV theme tune, they will be playing their own compositions 'Robin of Sherwood' (https://johnnyandtheraindrops.bandcamp.com/track/robin-of-sherwood) and 'Keep a little bit of Robin in your soul' (https://soundcloud.com/johnnyraindrop/keep-a-little-bit-of-robin-in-your-soul) .
Everyone, including adults, will be entertained! The show is aimed at families of which children are a sub-set so it will be a fun way to spend your Saturday morning!
There will be two 45 minute sets with a 15 minute break. Tickets £5 per child for 2 years to 10 years old, this includes a drink and snack. Under 5's to have an adult stay with them, however parents & carers are invited to stay, for free, regardless of the child's age.

Did you attend this event? Please give us your feedback by clicking here: https://www.surveymonkey.co.uk/r/6X227GM
​