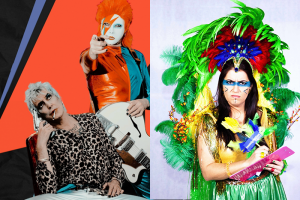 A Rock'n'Roll Suicide
Theatre of the Wild, Beautiful and Damned
created by Lee Jones and Dan Coleman
performed by Lee Jones
Ziggy Stardust takes us on a tragical Mystery Tour through the life of a nearly- was- Rock star, Gypsy Lee Pistolero, AKA Lee Mark-Jones! This one man- show plays out against a backdrop of videos and scenes from his early life, our jaded, ageing rocker sings along with his young pretty self and belts out songs from Punk to the Present, from an initially glamtastic, then tragic Rock N Roll career. It's a tale of anarchy, rage, sadness and laughter.  It's a struggle between damnation and salvation. Its story of a man who comes to terms with himself after the diagnosis of a condition that unknown to him, has defined his life. Join us on this autobiographical roller coaster and see for yourselves what Ziggy Stardust is finally revealed to be. Co-starring Lemmy, Slash, Axl Rose, Blondie, Joey Ramone and Joan Jett amongst others. Upon alter ego Ziggy Stardust's revelation to be his undiagnosed ADHD (Attention deficit hyperactivity disorder) condition, deep soul searching, self-questioning, recriminations, rage and confusion but also hope, clarity and understanding unfolds? Triumph over tragedy? You decide! From the Council estates of Kidderminster to Beverley Hills and back? Also featuring a special guest appearance by Chris Thorpe, as the voice of Mr. Punch, the puppet of truth.
The Tropicalia Island
created by Tropical Company (
Fernanda Mandagará and Ramiro Silveira)
performed by 
Fernanda Mandagará, Charlotte Laporte, Leanne Shorley and Sophie MacArthur

​A mud flood has devasted the world. Only three safe places remain: Himalayas, North Pole and Tropicalia Island. Amanda Ferreira is the native emigration officer receiving refugees (the audience) willing to flee from their submersed countries to seek asylum in her tropical paradise. Of course, there are rules and it won't be easy for the 'exotic white' people to fit in. Directed by Ramiro Silveira, Tropicalia Island is a modern allegory of our times, full of music, dance, audience interaction and irony. Stereotypes underline real perceptions in a world where the absurdity of the situations provokes laughter and awareness of the crude reality of asylum seekers. Tropicalia Island is a warn, a punch of reality. It is musical, contagious and surreal. It is a tropical dark comedy where sexism, xenophobia, homophobia and bigotry are twisted and revisited. Tropicalia Island is a show in a set made of inflatables, fake coconut trees and cocktails, where the audience, who is divided in three groups (red, blue and yellow) is invited to participate. An evening of laughter and surprises. A tropical escape to reality. Will you be accepted? Apply for your Visa now.
Sunday 7 July 2019
7:30pm
Studio 3 Arts, Galleon Community Centre, Boundary Road, Barking IG11 7JR
​£5 concession / £10 general admission



Clout!
Barking's very own pre-Edinburgh, Fringe Theatre Festival 
Clout
! is back by popular demand this summer from the 
4th to the 14th July 2019
.
Clout! is a new performance festival for East London which gives opportunities to artists and theatre companies to present new and existing work and work in development. 
​In addition to programming our Theatre at Studio 3 Arts, for the first-time we will also be presenting work at Unit 46, our shop space in Vicarage Field Shopping Centre.